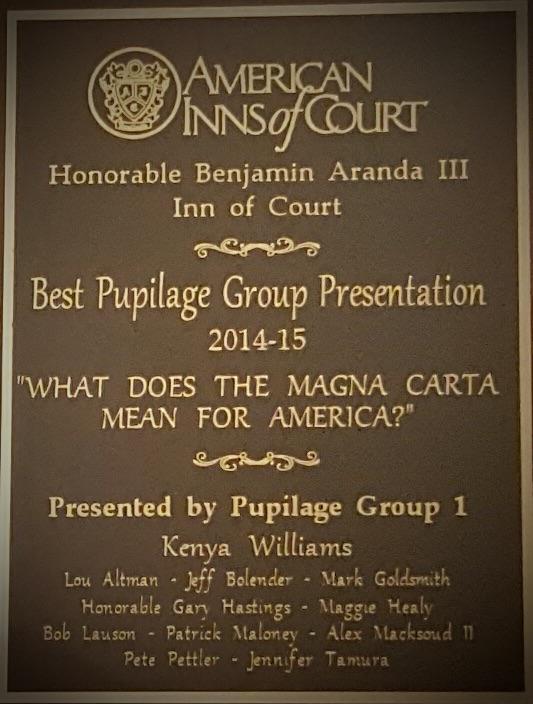 Fulwider Patton's Kenya Williams was recognized as Best Pupilage Group Presentation (2014-15) for the Honorable Benjamin Aranda III Inn of Court on September 16, 2015 as part of her group's presentation entitled "What Does the Magna Carta Mean for America?" Each member of the group received a personalized wooden plaque.
Her group's Presentation had also won third place in national American Inns of Court Magna Carta Program Contest.
The Honorable Benjamin Aranda III Inn of Court is the 237th chartered member of the American Inns of Court. It was originally chartered as the South Bay Inn of Court. The Annual Access to Justice Award, which is sponsored by the Judicial Council of California, California State Bar Association, and California Judges Association, also is named in his memory.
Members of the Aranda Inn who planned and presented the Magna Carta program are pictured below, from left to right, Hon. J. Gary Hastings (Ret.); Alexander E. Macksoud II, Esq.; Jeffrey S. Bolender, Esq.; Maggie Healy; Mark E. Goldsmith, Esq.; Kenya L. Williams, Esq.; Robert J. Lauson, Esq.; Peter D. Pettler, Esq.; Louis H. Altman, Esq.; and Patrick M. Maloney, Esq.